Accepted Items
LHCS promotes the best re-use of computer and electronic equipment. We also recycle unusable items to keep them out of landfills. FREE Drop-off: laptops, computers, network/telephone/test equipment, computer parts, cable/wire, motherboards, PC cards, memory and hard drives.
We also accept home electronics, stereos, VCR/DVD players, cell phones, and other hand-held electronics. Please CALL to discuss large quantities.
We have a fee for CRT/TV's monitors disposal due to the heavy metal disposal issues. This fee also refers to scrap printers and copiers which contain mostly plastic.
Demanufacturing
The term demanufacturing is the disassembly and recycling of obsolete consumer products. Recyclable materials include: plastics, metals, silicon, glass and more. Getting your equipment to a recycling center is the first step in the demanufacturing process. The labor cost vs recyclable material value is a break even situation economically. The real gain comes in ensuring environmental safety for generations to come.
Data destruction
Data destruction is also known as hard disk drive wiping with one primary difference, a hard disk wipe just destroys all data held on a disk drive whilst data destruction refers to the total destruction of the data and hard drive itself. Data destruction is usually achieved by using software to wipe the drive clean of all business information and any software. The disk is then either destroyed with a magnetic pulse or shredded. We prefer to have the hard drive destroyed by a magnetic pulse and then destroyed. Many clients having their CPU's, servers and data storage devices recycled request this service.
Computer Recycling
Computer recycling is disappointingly low: only 20 percent of computers are being recycled. The remaining computers and peripherals are being sent to landfills, where they take up precious space and release hazardous chemicals — including lead, mercury, cadmium, and toxic plastics — into the soil, water, and air.
Items we do not recycle
NO: We do NOT take large appliances (white-box appliances),
or chemicals, Styrofoam, cardboard or paper.
Please recycle paper and cardboard through curbside recycling.
Recycle chemicals & batteries at county/city toxic cleanup days.
Help prevent a toxic future
The typical personal computer or laptop is used for an average of three years before it is replaced. If it ends up in a landfill, the plastics and other components can last up to 450 years. So for the next 450 years it will continue to contaminate the environment in the process. There will be well over 400 million pieces of consumer electronics being replaced in the next five years. Recycling becomes critical.
Computers and related electronic equipment, including printers, monitors and hand-held devices are the fastest growing portion of the waste stream today — growing nearly three times faster than the municipal waste segment. Compact discs and floppy discs are also being added to the waste stream at an alarming rate. Every month, more than 45 tons of CDs become obsolete or outdated, destined for the landfills.
Increased computer recycling and reuse can do much to help impact the rapidly growing mounds of electronics that pollute our planet. Learn how you can make a difference today!
Reasons to Recycle PC's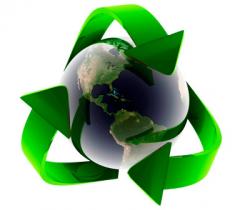 By recycling your companies hardware you are helping to set an example. We all recognize the importance of recycling. But how many people actually recycle? Send the right message; a business responsible enough to recycle is a business to respect. Be assured that data will be destroyed.
Monitor Recycling
Computer monitors that contain cathode ray tubes or CRTs can contain more than 8 pounds of lead. Studies at Carnegie Melon and the National Recycling Coalition estimate between 300 and 500 million Personal Computers – PCs – will obsolesce by 2007. Conservatively, that's over a billion pounds of lead headed towards our landfills and potentially to our ground water supplies.